Last week I showed you how I organize my
family favorite recipes
. Today, I'm sharing how I organize my recipe inspiration. I'm talking about those recipes that one spots and says "mmmm… that sounds yummy, I think I'll make that someday." So how does one keep track of all those different recipes?
Me, well when I find a recipe online, I PIN it to
Pinterest
, under the recipe category. Simple as that. When I'm looking for a different recipe to make, first I go to this binder that you're about to see, next I go looking on my pinterest. If I decide to try it that week, I print the recipe. If I think it's a keeper, it may possibly be transferred onto my recipe cards and added to our family favorite binder, which is the spot I go looking first while I plan our meals for the week.
With all those recipes that I spot in a magazine or book, I tear them out, or make a copy of them, depending on the magazine or book. To keep them all organized I use another binder that looks just like the favorites binder.
I used the same printable package that is available to purchase in
my shop
: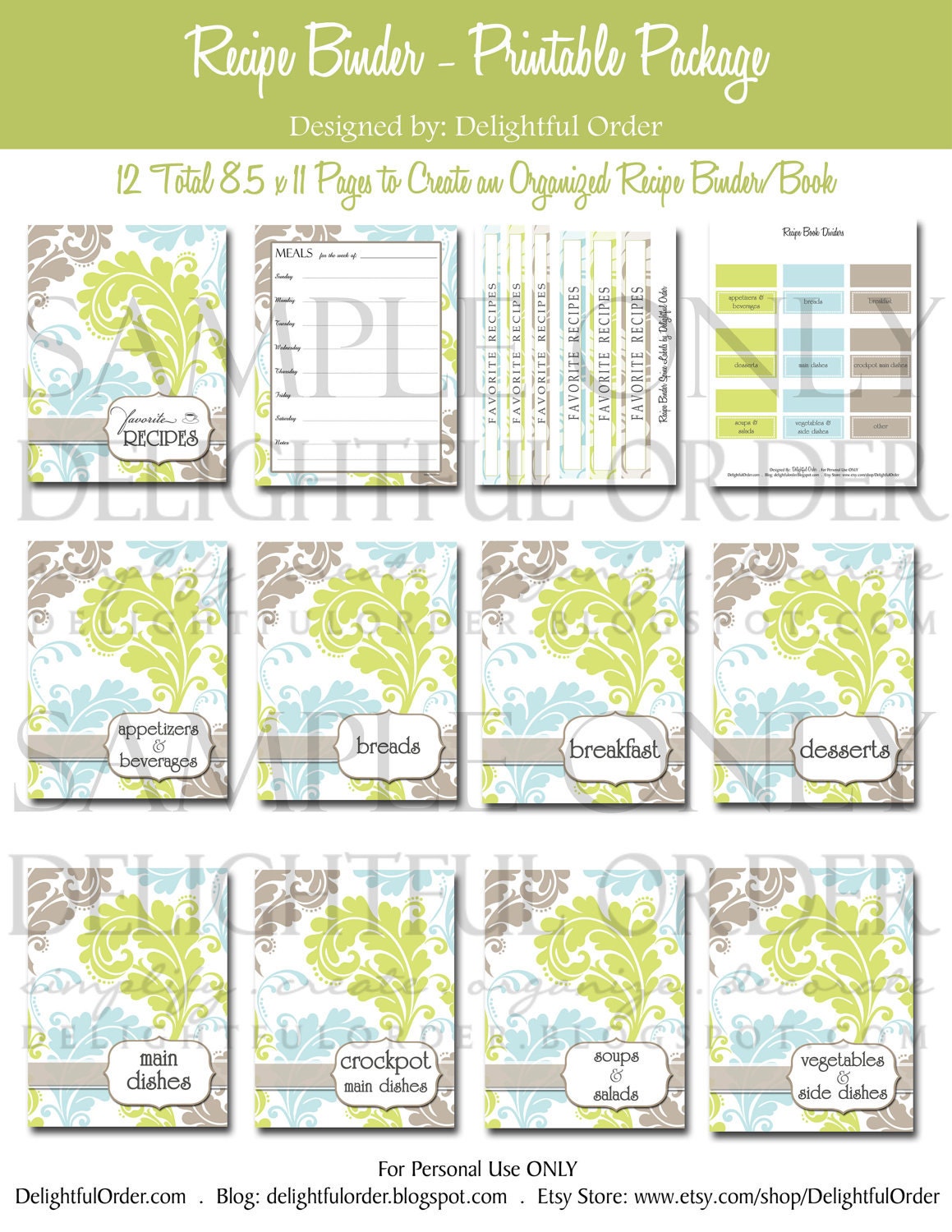 click the image above to be directed to this item in the shop.

but with a different cover page.
the tabs are the same. Those are part of the printable pack. Simply print, cut-out, fold and staple on.
I created a different side label too.
AND the biggest difference with this binder vs. my favorites binder is the inside pages. My family favorites has
recipe cards
, protected in 4 x 6 photo sheet protectors. In this binder, I use full page 3-hole punched sheet protectors (you can find them at any office store.)
mine are from Office Depot.
I simply inserted each divided page from the printable set that I created into the sheet protectors. I laminated the ones in my family favorites binder.
and I actually stapled the tabs directly onto the sheet protectors.
Inside each section, I put recipes that I've torn out magazines.
Super easy peasy!
:)
or copies of recipes that I'd like to try someday into go into the sheet protectors.
I keep a bunch of extra sheet protector pages in the back of the book, which makes for easy additions.
Do you have a different way of organizing all your recipes that you'd like to try someday? Or what about those family favorites? Do share, I'd love to hear from you.


May you be a little inspired!
Until next time,
DaNita
Linking to some of my
favorite parties.