Back at the end of January, while visiting my family, I tackled quite a few different spaces in my mom's home and organized them for her.
Just about every time she comes to visit me, I put her to work. Sometimes I have sewing projects for her, other times it's painting. She's ALWAYS busy doing something for me, while on her vacation (she doesn't mind, cuz she's told me so.) SO… I decided it was time to help her out, while on my vacation.
I ended up organizing her knitting/crocheting storage room, her sewing room, hall closet, bathroom and her medicine cabinet.
This post is all about her newly organized knitting/crocheting storage room and closet.
My mom is a work/craft-a-holic. (I've inherited that from her. Although my dad is a high energy, work-a-holic too, so.. guess I get it from the both of them. :)
What we figured out while organizing spaces in my mom's home is that she could never find anything, because it didn't have a "home" so she would end up buying more of something she already had plenty of...
Resulting in too much stuff with no order ... So I dove in and changed that.
Check out all the before photo's:
This one is a "during" photo. See the empty closet? That's the first thing to do. Empty the space and then make your plan.

Believe it or not, I do have some order in this photo. Like all the bins and such piled on the bed (yes, that's a bed underneath the window there.) Everything on there has to do with knitting/crocheting.


While emptying a space, group like items together until you determine a definite spot for it.


NOW… checkout all the AFTER photo's:
Ready for all the before and after's together?
The closet NOW houses all of my mom's yarn. The top bin is her "work-in-progress" bin. It holds all the projects that are half finished. I organized the yarn by color in separate bins, making it so much easier to find.
and…
and…
All of the material that was in the closet and on the floor has been moved into bins in my mom's basement, organized by fabric type. I'll give you a little peek at that in the sewing room post.

Pretty awesome huh? My mom is thrilled with the order in her home now. WHICH clears her mind and gives her more energy for creating. Wait until you see her sewing room, she spends a TON of time in there! (She just whipped up a wedding dress, from scratch, in 2 days! no lie, she is amazing!) and her room has NOW been brought to Delightful Order ;)

I'll show you her sewing room next and also her hall closet turned into a craft storage closet and under her bathroom sink too.


Now that she can find everything she needs, I gave her strict rules that she wasn't allowed to buy one more piece of yarn or material, until she uses up the stuff that she has.


How about you? Do you keep buying the same thing over and over, only to find out you had plenty of that item, BUT just couldn't find it? If so, maybe it's time to make a "home" for everything, that way you know what you have and what you don't have.
Just a quick reminder... only 2 more weeks until the
Spring into Organization Blogger Home Tour!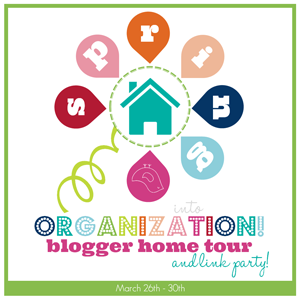 I'm so excited! I can't wait to peek into other organized woman's homes and check out some of there most organized spaces! Make sure to
join us March 26th-30th
! It should be loads of fun! Today, I'm off to put some finishing touches on the room that I'll be sharing...
Want to know what room I'll be posting on? ... Come back later this week to get a sneak peek into the room that I'll be sharing with you during the tour! ;)
May you be a little inspired!
Until next time,